The Value of A Pisay Diploma
link: http://kikyouoneesama.multiply.com/journal/item/317/The_Value_of_a_Pisay_Diploma

I am speaking as a Pisay alumna, as a former Pisay faculty member and as a UP instructor.

Getting in Pisay is a privilege. You are not paying for your education, in fact you are getting paid to study. As a student, I've worked hard to earn that Pisay diploma. Graduating from Pisay means that you have passed the standards set by the school. I find it unacceptable that someone could earn that diploma even if he got a grade of 5.0.

The grades are based on several components: homeworks and seatworks, quizzes, long exams, class participation and periodic exams. This measures both the intellectual capacity and the diligence of the student. Even if you get low scores in the exams, you get a chance to redeem yourself in homeworks and class participation. Getting a grade of 4.0 or 5.0 means that your performance is bad in all of these components. If you obtained a grade of 4.0, you get one last chance to redeem yourself through the removal exam. This will determine whether you learned enough concepts to pass the subject or not. If you pass, then you get a grade of 3.0. Otherwise, you get a grade of 5.0.

Allowing a child to graduate even if he got a grade of 5.0 implies that the child did not deserve to flunk. You've got to be kidding. There are four different levels of failing marks: 2.75, 3.0, 4.0 and 5.0. If a student got a failing mark on a particular subject, he is required to take remedial classes throughout the entire year to help them improve their grades. Getting a grade of 4.0 or 5.0 in spite of this means that either you really did not learn anything from the subject, or you did not exert any effort at all.

Allowing a child to get a Pisay diploma even if he got a grade of 5.0 is being unfair to the other Pisay graduates. They did their part to get the Pisay diploma, and yet another person could get it even if he did not meet the standards. Why bother with the standards in the first place? This makes the Pisay diploma practically worthless, because anyone could get it. Not to mention that this will also be unfair to the former Pisay students who did not get a Pisay diploma because of a grade of 5.0.

When you get out of Pisay, other people will not care whether you passed or failed in your subjects during high school. Your Pisay diploma says it all, and other people will naturally expect something from a Pisay graduate. At present, my colleagues would often complain that a lot of Pisay graduates are not performing well in their math courses. In fact, I've flunked a few Pisay graduates myself. Is this the image that we want to project?

If you could still get that Pisay diploma even if you get a grade of 5.0, what then is the value of a Pisay diploma?

------------------------------------------------------------------------


reply
booleanlogic wrote on Mar 31, edited on Apr 1
TO ALL PSHS ALUMNI: I would like to request that you send an e-mail to me (raffysaldana@gmail.com) including your full name, batch, and present affiliation. I will make a compilation of opinions and will present it to the PSHS Alumni Association/National Alumni Association. We are now in the process of convening an emergency meeting to take an appropriate action regarding this issue.

Thank you.

Raffy Saldana
PSHS Alumni Association/
PSHS National Alumni Association
(http://raffysaldana.blogspot.com)

----------





copy-pasted from my batch's mailing list. click the links for more details, and please email Mr. Saldana and let your voice be heard.


Opens July 21, 2007 03:30 PM at the CCP Main Theatre / Tanghalang Nicanor Abelardo.



Do Pisay students get discounts? :D
Cinemalaya 2007
Philippine Independent Film Festival
20 to 29 July 2007
Cultural Center of the Philippines

COMPETITION SCREENINGS
The Cinemalaya 2007 Full-Lengths

PISAY by Auraeus Solito
21 Jul/Sat 03:30 PM Venue 1 - CCP Main Theatre / Tanghalang Nicanor Abelardo
22 Jul/Sun 09:00 PM Venue 4 - CCP MKP Hall / Bulwagang Alagad Ng Sining
24 Jul/Tue 09:00 PM Venue 1 - CCP Main Theatre / Tanghalang Nicanor Abelardo
25 Jul/Wed 09:00 PM Venue 2 - CCP Little Theatre / Tanghalang Aurelio Tolentino
26 Jul/Thu 06:15 PM Venue 5 - CCP Tanghalang Huseng Batute
27 Jul/Fri 10:00 AM Venue 1 - CCP Main Theatre / Tanghalang Nicanor Abelardo
28 Jul/Sat 03:30 PM Venue 2 - CCP Little Theatre / Tanghalang Aurelio Tolentino

Source: The Philippine Art Scene website.
Just in case you haven't heard yet...

AURAEUS SOLITO, who directed the film, "Pagdadalaga ni Maximo Oliveros" has a new film project at hand: "Pisay"

I uploaded his sponsorship request letter which includes the details of the film.

http://www.megaupload.com/?d=O3415RIO

or!

http://www.4shared.com/file/17502260/f7ed96b5/PISAY_movie_-_sponsorship_letter.html

Go ahead & talk, people!

[cross-posted]
» Travel Ban +... (UPDATED)
My, hasn't this comm been inactive?

Some of you may already know this, but there was a travel-ban-scare a while back because of a certain watchlist o'er at immigration. Well, this has been cleared up:


------------------------------


Dear Fellow Alumnus:

At present, only alumni or scholars belonging to PSHS-Main Campus Batches 2006-2010 are required to secure a travel clearance from the Office of the Director (Main Campus) for planned trips outside of the country. We will inform the alumni ahead of time should this directive change due to a PSHS System Board of Trustees resolution.

Thank you for your continued support of the PSHS.

Jessamyn O. Yazon
OIC, PSHS Main Campus


------------------------------


There's no official ban for alumni of PSHS - Diliman YET. However, they are requesting their alumni - no batch limit-- to inquire them of their whereabouts. I.e. to submit any proof of graduating from a science and technology course, provide contact details and other data for tracking purposes only. Should they pursue the ban in the future, those who have submitted their details to the PSHS Director's Office will automatically be cleared from the list of the ban.

--Laila Mateo, PSHS Alumni, who was kind enough to contact Pisay :)


------------------------------



Also, this. If you can't tell what that is, no cookies for you :D



------------------------------


Update (17 March):
"...nagpunta kami...sa pisay last week para tanungin yung sa travel ban tapos pinakuha parin kami ng permit sa office ni dr. yazon. madali lang naman po. bali magfi-fill up lang ng form tapos magdala kayo ng photocopy ng proof na science course parin daw ang kinukuha niyo. pwede daw yung photocopy ng form 5 sa mga taga-up..."

--Leanne Enecio, PSHSdil `04 :D



------------------------------


Update (21 March):
hi all

the bot meeting has just finished this 6pm

the bot has decided and will be coming out with a resolution suspending
indefinitely the watch list process for all campuses pending clear policy
guidelines coming from the bot. the directors concerned will also be
directed to communicate with the bid to negate all prior watch list requests

i think the guidelines that will be formulated will be very liberal based on
the mood of the bot

all of the other trustees were actually surprised why such a watch list
process came about

congratulations to all of us, specially to the smc alumni who brought this
issue out

regards to all

rene77

» Attention: Pisay Graduates
As of January 15, 2007, we're not allowed to leave the country without first getting a clearance from our "beloved" alma mater. Amen.

First heard about it from here, who has more details.

If anyone wants to fill the rest of us in on this, please, please do.

Damn.

No more taking advantage of Cebu Pacific rates for me :(

» Rak-rakan Pa-sandaan
sorry for those who will see this post more than once.


Nuod po tayo lahat pagkatapos ng lantern parade! LIBRE LANG PO!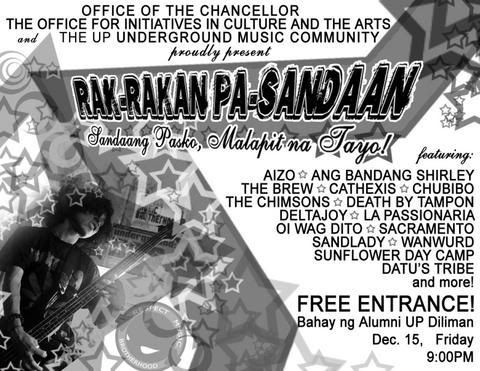 » Jorge Sison Passed Away This Morning...
Pisay Batch2003 classmates,

I just heard that Jorge Sison passed away this morning. Bangungot daw.

The body will be taken to pangasinan tomorrow. You can visit today at 67 Bukidnon St, (cor, Isabela St), Bagumbayan, QC today.

Contact Andre or Jimbo for more details.

» (No Subject)


that's one hell of a line-up, so please please go!